Play Solitaire Online for Free
No download or email registration required. Undo moves, use hints, create an account, and play on mobile or fullscreen.
Play over 500 free games, including Klondike Turn 1, Klondike Turn 3 and more:
Frequently Asked Questions
What are the rules for solitaire?
Cards and groups of cards, as well as individual cards from the stockpile, can be moved in the tableau as long as they are moved on top of a card of a different color in descending rank. A Three of Clubs can be placed on top of a Four of Hearts.
When a tableau column is empty, you can place a King there
You must move all the cards found in the tableau to the four foundation piles by suit and in order from Ace to King to win
Continue reading below for more details, or start playing solitaire!
How do you play solitaire?
Game setup: After a 52-card deck is shuffled you'll begin to set up the tableau by distributing the cards into seven columns face down, with each new card being placed into the next column. The tableau increases in size from left to right, with the left-most pile containing one card and the right-most pile containing seven. As an example, this means the first seven cards will create the seven columns of the Tableau. The eighth card distributed will go into the second column, since the first column already has its one and only card.
After the piles are complete, they should be cascaded downwards such that they form a "reverse staircase" form towards the right. Ultimately, you will have seven piles, with the first pile containing one card, the second pile containing two cards, the third pile containing three cards etc. Only the last card in each of the Tableau columns is flipped over face up so you can see it's suit, color and value. In our game, this is automatically done for you!
All leftover cards after the foundations are created become the "Stock," where you can turn over the first card.
Goal:To win, you need to arrange all the cards into the four empty Foundations piles by suit color and in numerical order, starting from Ace all the way to King.
Tableau: This is the area where you have seven columns, with the first column containing one card and each sequential column containing one more additional card. The last card of every pile is turned over face up.
Stockpile: This is where you can draw the remaining cards, which can then be played in the game. If not used, the cards are put into a waste pile. Once all cards are turned over, the remaining cards that have not been moved to either the tableau or foundation can then be redrawn from the stockpile in the same order.
Playing the game:
1. Face up cards in the tableau or stockpile can be moved on top of another face up card in the tableau of an opposite color that is one rank higher, forming a sequence of cards.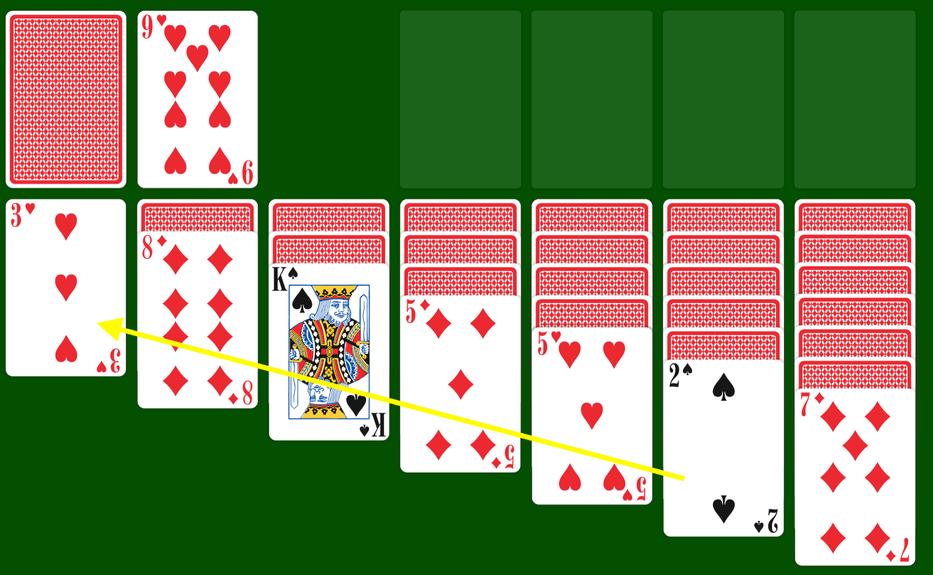 2. Groups or stacks of sequenced cards in the tableau can also be moved together on top of a card of the opposite color and higher rank.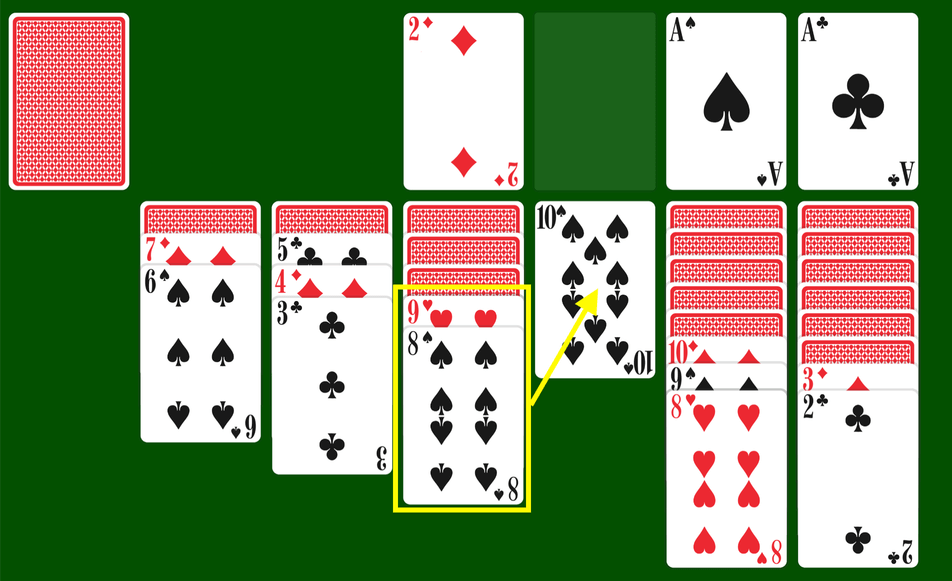 3. If a tableau column has only face-down cards remaining, the last card is flipped over and can be played.
4. To start a foundation pile, an Ace must be played. Once a foundation pile is started, only cards of that suit can be placed in that specific pile.
5. As cards are surfaced from the stockpile or tableau, and there are no other cards on top of them, they may be moved to a foundation pile if they can be placed in the right order.
6. If a tableau column is empty, you may move a King, and only a King, to that column.
7. Win by moving all the cards to the Foundation piles in the right order.
What is the difference between Klondike and Classic Solitaire?
Many people wonder if Klondike is a unique solitaire game like Spider Solitaire or FreeCell. It's not! Klondike solitaire is the original or classic version of the game which you can play on our homepage, and it's also the most popular version among solitaire games.
It's believed to be named Klondike after the Klondike region of Canada. During the gold rush in 1896, many miners played classic solitaire, and eventually called is Klondike Solitaire
News and updates
12/16/20 - We've rebuilt our Freecell and Spider games so they now have the same great features as our Klondike game. On those games, you can now play the game of the day and change card desgins. Check them out!
12/29/2020 - We added a new tile matching game, Mahjong! If you don't know how to play, there is a guide to instruct you how below the game!
1/12/2021 - We introduced Hearts, a trick-taking card game, to our platform. While normally played with other people, you can play against the computer. Keeping track of cards and anticipating moves is critical to winning this game.
1/20/2021 - Now when you play on mobile, the cards will appear bigger. We hope this will further improve gameplay and usability for mobile users.
2/25/2021 - If you like hearing cards move, you can now play with sounds. Under the more button you'll find the option to turn sounds on.
3/18/2021 - We introduced comments. Now after every game, you can leave comments and tips for other players.
4/15/2021 - While we love card games, we also love all classic brain teaser games. We're pleased to announce that we released Sudoku with various difficulty levels. If you're interested in a number puzzle, give Sudoku a try!
4/26/2021 - We introduced new cards in our mobile experience so it's even easier to read and move the cards.
2/15/2022 - We added Yahtzee multiplayer. Now you can compete against real people in real time.
3/25/2022 - We added Word Hunt, a word game that gives you six chances to guess a word.